DRIVING AROUND WITH THE BLINKER ON
Grumpy Old Punks have confirmed their new EP "Driving Around with the Blinker On" for an iTunes release on Tuesday January 13th 2015.
Along with the title track, the tunes will include "Mission: Incontinent," "Middle Aged Lobotomy," "D.U.I.," "Supermarket Checkout Girl," and lead singer LouB's ode to his Dad's lawnmower "Cub Cadet 100."
The band did basic tracks and vocals at Cue Recording Studios in Falls Church, VA in late October. Many classic DC punk records have been laid down there as well as monster releases from Dave Grohl, Madonna, and Michael Jackson. Blaine Misner is recording the band in the studio. They are currently mixing the album when not suffering from gout.
Cover art is once again be handled by underground cartoon legend and best selling author Derf. See the finished masterpiece below.
YOU GET NOTHING (FOR CHRISTMAS)
As the holiday season of 2014 slammed the band members in their already recession-thinned wallets, the struck back with their first ever holiday opus. Recorded at Hudson Street Sound in Annapolis MD, "You Get Nothing (For Christmas) is now available on iTunes. Check out a lyric video for it below.
GRUMPY OLD PUNKS "SHAKE IT OFF"
In another sorry effort to connect with their own kids, the Grumpy Old Punks again covered a current pop star, debasing themselves for the sake of family unity. Unavailable for sale to avoid getting their quickly widening asses sued off, "Shake It Off" is their take on the mega smash by Taylor Swift. In an effort to console her lawyers, the GOP released on her 25th birthday. It's dedicated to soon-to-be-gone CBS Late Late Show host Craig Ferguson. He's an old punker like the band and lead singer LouB is a huge fan of his.
GRUMPY OLD PUNKS: BAD ROMANCE
As the band continues work on the new EP, they wanted to give you kids a little something to hold you over. So here it is. Previously never heard before by anyone, including the band because of their massive hearing loss, here's a lyric video for the Grumpy Old Punks cover version of Lady Gaga's "Bad Romance." Please don't sue us, Stephanie.
GRUMPMANIA ON THE JERSEY SHORE
The Grumpy Old Punks made their trimphant stage debut at Long Branch NJ's legendary Brighton Bar in front of a sold out crowd. When the doors opened and GOP fans flooded the venue, the band was moved to the showcase spot for the evening. Following the onstage chaos, which included groupies throwing large "grannie" underpants, the quickly aging band members were treated for minor maladies including sore backs, swollen feet and that "still gotta go" feeling.
The set list included old favorites like "That's No MILF That's My Wife," "Anarchy in the Prostate," and "My Adjustable Rate Mortgage Really Sucks" as well as tunes destined for the band's new EP this Fall.
Look for another showcase gig in October. Deets forthcoming.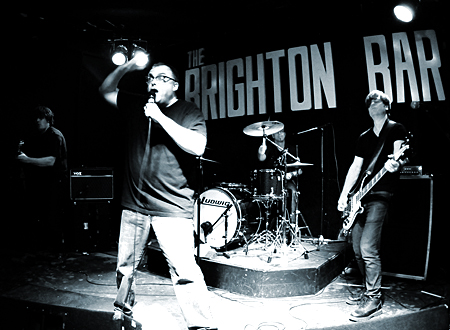 GRUMPY OLD PUNKS ASSEMBLE
Grumpy Old Punks will make thier first ever concert appearance on Saturday August 10th, 2013 at the legendary Brighton Bar in Long Branch, NJ. The bill also features Cliff & Ivy, TV Tramps, Devil Haus and Damn Kids.
"I hope none of us comes down with the gout that night," worried lead singer Lou B. "Just in case, I'm laying off the fatty foods that week."
Doors open at 8pm. The band hopes to get on no later than 9pm as they start to get sleepy much later than that.
For more info go here.
GRUMPY OLD PUNKS VID SHOOT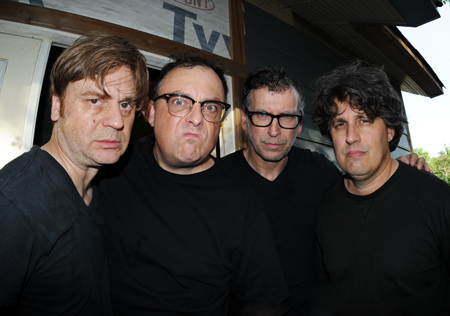 The band reassembled for the first time in 2013 to shoot footage for a short documentary film about their mission to bring "Middle Age Punk Rock Rage" to the masses.
Shot at the group's practice facility in Clarksburg NJ, the film is directed by Rick Hamilton of TCB Creative. Release expected late Summer.
"We don't have a name for this thing yet so we're open for suggestion," spat lead singer LouB, "We've discussed 'A Hard Day's Grump,' 'The Grumps Are Alright,' and 'Grumprophenia' but nothing's stuck yet."
MERCH STORE = RETIREMENT FUND

The official Grumpy Old Punks merch store is now open. "We've pissed away our lives on Punk Rock," says lead singer Lou B. "Now we have no retirement fund. This is it. Buy something or we'll starve to death in our old age." You can hit it here. No Senior Discounts!
G.O.P. WHIP OUT "ANARCHY IN THE PROSTATE"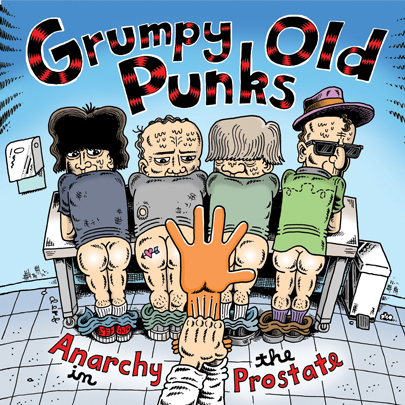 Grumpy Old Punks have unzipped their latest EP "Anarchy in the Prostate." It features more of their middle age punk rock rage including "I Brag About the Sleep I Get," "Gotta Get A Nose Hair Trimmer," "My Adjustable Rate Mortgage Really Sucks," "Why Do I Take This Little Blue Pill," "All I Do is Drive My Kids" and the urinary tract title track. Download an electronic press kit here. Get the album on iTunes. The band will announce some gigs as soon as their wives give them permission to leave the house.
"ANARCHY IN THE PROSTATE" FIRST LOOK

Four middle age rumps about to be violated by a rubber gloved hand. This is your first look at the cover of the forthcoming new Grumpy Old Punks EP entitled "Anarchy in the Prostate." This basic pencil sketch which will be expanded on and colorized for the final album artwork. The art is once again by underground legend Derf and will be seen in its fully finalized glory when the record drops in March. We only hope the doctor changes gloves for each butt. Blech.
DERF HAS "ANARCHY IN THE PROSTATE"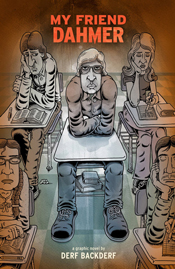 Grumpy Old Punks are as stoked as their tired, old asses can be to announce that world-renowned, underground (That is, if it's even possible to be both "world renowned" and "underground") cartoonist DERF will return as their album cover illustrator. "Anarchy in the Prostate" will hit in Spring 2012. EP deets soon. Meanwhile, check out Derf's new graphic novel "My Friend Dahmer" about his real-life, childhood friendship with serial killer Jeffrey Dahmer. No, really. Find he and it at DerfCity.com.
GRUMPY OLD PUNKS NOW ON iTUNES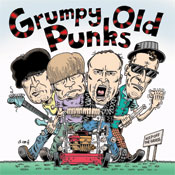 The middle age anger and frustration that musically manifests itself as the Grumpy Old Punks self-titled debut album are now available on iTunes and as ringtones for iPhones. The EP includes the classics "Grumpy Old Punks," "That's No MILF That's My Wife," "Where Are My Glasses," "Hey You Kids Get Off My Lawn," "Empty Toilet Paper Roll" and "Why Do I Have to Pee All the Time?" Get it on iTunes here and watch for news soon on upcoming GOP shows!
DEBUT VIDEO FROM THE G.O.P.
Grumpy Old Punks have released their self-titled, debut video to the punk rock starved, middle age masses of the world! Directed by Rick Hamilton of TCB Creative, you can check it out on "YouTube" which is where "the kids" go to watch "videos" all day until their "brains" are "mush."
GRUMPY OLD PUNKS SELF TITLED DEBUT
The masters of middle age musical mayhem the Grumpy Old Punks have announced their self-titled debut album. "We're not sure whose going to release it yet but if a bunch of crappy auto-tuned artists can get on iTunes then we can, too, "said lead singer LouB. The album, filled with lyrics inspired by "middle age punk rock rage," features songs like "Hey You Kids Get Off My Lawn, "Grumpy Old Punks," "Nose Hair Trimmer" and "Where Are My Glasses?" Another favorite is the tale of a twenty-year marriage ending when the wife leaves to do Internet porn entitled "That's No MILF That's My Wife." LouB adds, "It's not a true story…yet. However, the married guys in the band are nervously checking their computer browser histories after their wives surf the net." The album was produced by the band and mixed by Mike Landolt at Mike's Curry House Studio in Columbus, Ohio and will feature six original songs with lengths so short it clocks in at around eight minutes. Look for it in November 2011.
THE GOP HOPE TO LIVE TO SEE ALBUM RELEASE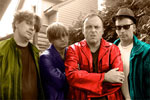 The Grumpy Old Punks, rock star darlings of the Viagra set, are hoping to live to see the release of their self-titled debut album in late 2011. "We're not getting any younger," said guitarist KRoy. "If we don't get moving on this thing soon our first tour will double as our farewell tour. We're not a well band." The band is writing and recording when their busy schedules of daytime jobs, meaningless household tasks and endless rounds of driving their kids allow. "At this point in my life I'm hoping for two things," said singer LouB. "For this album to get recorded and a healthy bowel movement. Preferably not at exactly the same time."


Tweets by @GrumpyOldPunks